Hypnosis For A Brighter Future
Be Happy. Be Free.
Live The Life You Want
Lee Walker
DCH MNCH (Reg.) BSc (Hons)
Clinical Hypnotherapist
NLP Mind Coach
Physiologist
I am a fully qualified Clinical Hypnotherapist and a member of the National Council for Hypnotherapy and an approved Anxiety UK therapist. I can help you improve your life by using a flexible approach and range of techniques, including:
Rapid Behavioural Hypnotherapy
Solution Focused Therapy
Neuro Linguistic Programming (NLP)
Hypnotherapy is available online and in Beckenham, Bromley.
About Me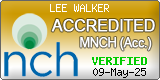 How Hypnosis Can Help You
Hypnosis can help you with a range of conditions and allow you to make positive changes you want.
Here are some conditions that hypnotherapy can help you with:
What is Advanced Rapid Hypnotherapy?
The Power of Hypnosis
Advanced Rapid Hypnotherapy uses the power of hypnosis to help you make positive changes. Hypnosis opens your mind to new ways of thinking so you can live a happier life.
Hypnotherapy is optimistic and liberating because it is forward-looking and solution-focused.
Unlike other types of therapy, you focus on the solution rather than the problem. Hypnosis helps you create that future version of yourself, so you can enjoy that happier future.
---
Subconscious Changes
Do you stay in your comfort zone and avoid change? Most of us are creatures of habit and find it hard to change habits of a lifetime.
Deep-rooted behaviours and habits are controlled by your subconscious mind.
Advanced Rapid Hypnotherapy allows you to easily changes at a subconscious level. You explore your subconscious thoughts and change those unwanted behaviours and habits.
---
Contact Me
---
I would love to hear from you.
Book your free consultation to find out how Advanced Rapid Hypnotherapy can help you.
If you have any questions or comments, feel free to get in touch.
---
Call Me:
---
Email Me:
---
Book Me:
Clinic appointments
Hypnotherapy available at Beckenham Therapy Rooms, 102A Bromley Road, BR3 5NP
Online appointments
Hypnotherapy is available from the comfort of your own home.