Change Your LifeWith Hypnosis
Be Happy. Be Free.
Live Your Best Life!
Book your Free Consultation.
Discover Happiness with Hypnotherapy.
---
I booked hypnotherapy sessions to stop smoking and since then I no longer have any inclination to smoke. I went from nearly 10 cigarettes a day to none within leaving the therapy room and have had no withdrawal symptoms or felt any need to smoke whatsoever. I do not miss smoking or crave cigarettes at all. I found the hypnotherapy sessions very comfortable and relaxing. Lee put me at ease instantly and made it very easy to immerse myself in the therapy. The only slight negative point was that I could hear someone come running down the stairs in the rooms above. However, that did not negate the success of the therapy.AM BR3 - Smoking Cessation
I really struggled with anxiety for a number of years, and recently I had to go away with work and knew that I couldn't let my anxiety get in my way anymore. So I was recommended lee, over several weeks we did zoom calls and he really helped me relax my mind. I then did my weeks stay, and didn't get a single bit of anxiety, I was absolutely astonished at the outcome and couldn't believe this giant leap lee has allowed me to take in my life in such a short space of time. I couldn't recommend him enough!FG. BH2 - Anxiety
I had anxiety for needing a toilet when I was out in public or in unfamiliar surroundings. I was constantly thinking about needing the toilet before I left the house and often couldn't change the thoughts and anxiety in my mind once I was out of the house. Hypnotherapy helped me change the chain of thought in my mind. I now never think about needing a toilet before I even leave the house, let alone out in public. It's totally changed my life from the fear and anxiety I was suffering from.MA. SE6 - Toilet Phobia
---
I had hypnotherapy for fear of flying. I enjoyed the whole experience, but I think the part I enjoyed most was the depth of relaxation Lee was able to take me to, to be able to change the connection with the fear emotion. I've been on a flight and was able to do so without the need for any pills from the doctor which is life-changing for me as I was able to drive when we landed. The experience worked amazingly for me just the way it was. Thank youLU: BR4 - Fear of Flying
I sought out Hypnotherapy after decades of experience with anxiety. I tried counseling and medication over the years. While this had some effects in reducing the anxieties, it could not support my need for confidence and being able to do things that come with a certain level of confidence. Lee gave me the very desired confidence. I was able to start seeing the changes within days of the work Lee did with me. I had two more sessions and I am finding a great reduction in my anxiety and doing things that I would normally get myself worked up over and then avoiding it. I'm grateful to Lee for the great work that helped me get the much desired confidence. Thanks Lee.BBP. CR2 - Confidence
I had hypnotherapy because I was suffering from insomnia. I really enjoyed the deep state of relaxation it put me in during and after the session and the lasting effects at bedtime. It helped reduce my rapid breathing, increased heart rate and anxious feelings I had at night. I liked having the audio recordings so I could practice outside the sessions. Since having hypnotherapy I am sleeping normally, most of my anxious thoughts about sleeping have disappeared or reduced in severity. I had healthy expectations of hypnotherapy, was open to it working but didn't expect it to. I found it very easy to find a hypnotic state with Lee's guidance.EJ. BR3 - Insomnia
Lee Walker
MNCH (Reg.) HPD BSc (Hons)
Clinical Hypnotherapist
NLP Coach
Physiologist
About Me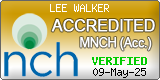 I can help you change your life using a flexible approach and range of advanced techniques, including:
Rapid Hypnotherapy
Solution Focused therapy
Neurolinguistic Programming
I am a fully qualified Clinical Hypnotherapist and a registered member of the National Council for Hypnotherapy and an approved Anxiety UK hypnotherapist.
Relaxing and comfortable hypnotherapy in West Wickham Bromley and online.
How Hypnosis Can Help You
Hypnotherapy in West Wickham Bromley or online can help you make positive changes in your life.
Here are just a few ways that hypnotherapy can help you.
The Power of Hypnosis
Hypnotherapy uses hypnosis to create the best version of you.You will make positive changes with the Power of Hypnosis.
Hypnosis opens your mind to more positive ways of thinking.
Hypnosis is liberating because it is forward and solution-focused.Hypnosis is different because you focus on the solution.
---
Unconscious Changes
Do you tend to stay in your comfort zone?Do you find it hard to change your thoughts, feelings and habits?
Deep-rooted habits are controlled by your unconscious mind.
Hypnosis helps you easily change at an unconscious level.Hypnosis helps you change your unwanted thoughts and habits.
---
Contact Me
---
Book your free consultation now.
Find out how hypnotherapy in West Wickham Bromley or online can help you.
If you have any questions or comments, feel free to get in touch.
---
Call Me:
---
Email Me:
---
Book Me:
Clinic appointments
Hypnotherapy in West Wickham Bromley is available at 92 High Street, (Within OsteoWellbeing), West Wickham, BR4 0NF
Online appointments
Hypnotherapy is available from the comfort of your own home.