Discover Your Inner CalmEnjoy a Calm MindEnjoy a Calm Gut
---
BOOK NOW
Discover How Hypnosis CanCalm Your Mind & Gut
I had anxiety for needing a toilet when I was out in public or in unfamiliar surroundings. I was constantly thinking about needing the toilet before I left the house and often couldn't change the thoughts and anxiety in my mind once I was out of the house. Hypnotherapy helped me change the chain of thought in my mind. I now never think about needing a toilet before I even leave the house, let alone out in public. It's totally changed my life from the fear and anxiety I was suffering from.MA. SE6
I would like to thank Lee for his time and experience with helping me through a difficult time coping with IBS/anxiety. He gave me a lot of tips and ways to overcome situations when they get too stressful which I will continue to use in the future.HS. BR4
---
Lee was a phenomenal help for me with coping with my anxiety. Stress at work had exasperated my already on-going anxiety which then started affecting my personal life. What struck me most was that there was no judgement from Lee. He listened and empathised with me and my issues and taught me the tools to cope better in my work and personal life. One of the best investments in me I made.PD: CV6
We worked on focusing letting go of the catastrophic thinking and I found the experience was like deep diving into myself and it felt like a great weight had been lifted from me. I didn't get the 'dark thoughts' at all and it feels like I have connected to something fundamental. Although I do still get a little anxious and stressed here and there, it feels more like allowing the stress flow through me and back out the other side, leaving me energised rather than having to push it out of me, leaving me exhausted.PB. SE26
Lee Walker
DCH MNCH (Reg.) BSc (Hons)
Clinical Hypnotherapist
NLP Mind Coach
Physiologist
Fully qualified Clinical Hypnotherapist and a member of the National Council for Hypnotherapy and an approved Anxiety UK therapist. I can help you live a calmer life using soothing holistic treatments, including:
Gut directed hypnotherapy

Solution-focused therapy

Neuro Linguistic Programming (NLP)
Hypnotherapy treatment is available in Beckenham, Bromley or online.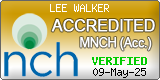 ---
Call or Text
---
Email
---
Locations
Online appointments
Therapy available from the comfort of your own home.
Clinic appointments
Therapy available at Beckenham Therapy Rooms, 102A Bromley Road, BR3 5NP